Pension with SNPS
You started employment at Shell on or after 1 July 2013? Then SNPS (Shell Nederland Pensioenfonds Stichting) arranges your pension. Would you like immediate insight into your pension? Then log in at my-Shell Pension, your personal portal. Or read more about your pension in Pension 1-2-3.
SNPS is a defined contribution scheme
You and your employer pay a monthly age-dependent contribution with which you accrue your own pension capital. You will use this to purchase pension benefits in the future.
The following is provided in your pension scheme
At SNPS you accrue a pension capital that is used to purchase an old-age pension on your retirement date. With effect from your retirement date you start receiving a pension benefit. You will receive this benefit as long as you live. If you have a partner on your retirement date, your pension capital will also be used to purchase a partners' pension. Your partner will receive this partners' pension when you die.
If you should die during your employment, any partner and/or children you have will receive a pension from Shell Pensioen. Your partner will receive a partner's pension for life. Your children will receive an orphans' pension until their 18th birthday. Children who are studying are entitled to an orphans' pension while they are studying (but only up to the end of the month of August after their 24th birthday).
Notice! If you cohabit without being married or live abroad, you must register your partner with SNPS for the Shell pension scheme yourself.
What happens if you cannot work due to a disability? You may qualify for an invalidity pension. In case of full or partial occupational disability, your contributions to the Shell pension scheme will continue to be paid for the period that you are fully or partially incapacitated for work. SNPS will in such case continue to pay the pension contribution.
All agreements about your pension are stated in Regulations I (pdf).
Are you earning more than € 113,995.- on a full-time basis ((as of 1 Februari 2023)) ? You may participate in the Shell Net Pension Scheme. Then you accrue pension in the Shell Net Pension Scheme for your salary above that amount.
We invest for your pension
Your contributions are invested in accordance with the Life-cycle profile of your choice: neutral, offensive or defensive. In this, you decide how much risk you want to take with your investments. As you grow older, the investments in shares are reduced in each risk profile to lower the risk of large fluctuations. By default, your contributions at SNPS are invested on the basis of the 'Neutral' Life cycle profile. Would you prefer it if we invested your contributions on the basis of a Defensive or Offensive Life cycle profile rather than a Neutral Life cycle profile? You can change your Life cycle profile at any moment of time in your personal pension portal my-Shell pension. The next time that we invest for you we will use your new risk profile. Four times per year we adjust your entire capital to the most recently selected risk profile.
If you would like to know more about how we invest your contributions, read about our investment policy and responsible investing.
Below you see the returns over the past 5 years for various ages. These returns apply to the participants who started employment on or after 1 July 2013.
Opted for a variable benefit: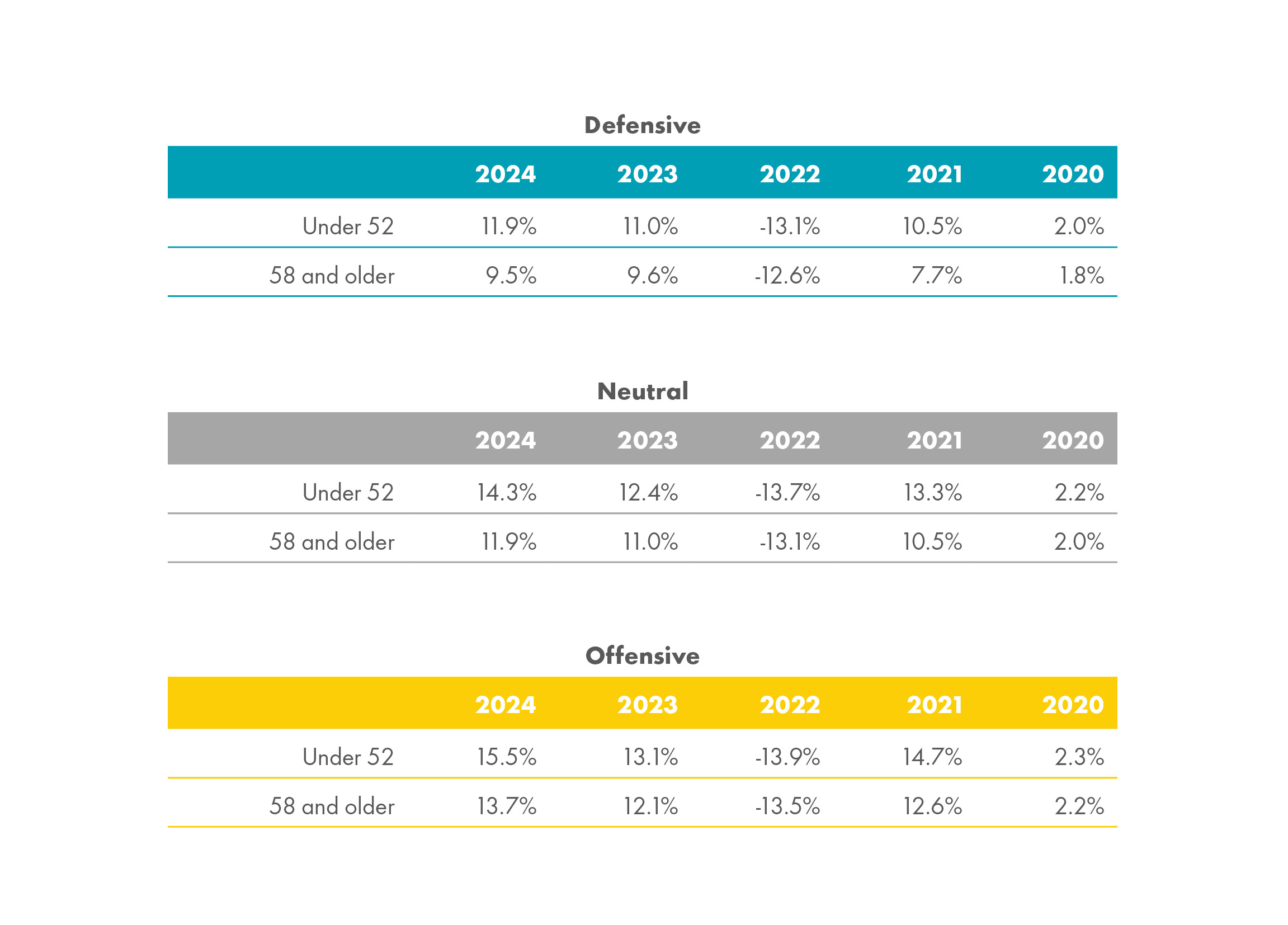 Opted for a fixed benefit: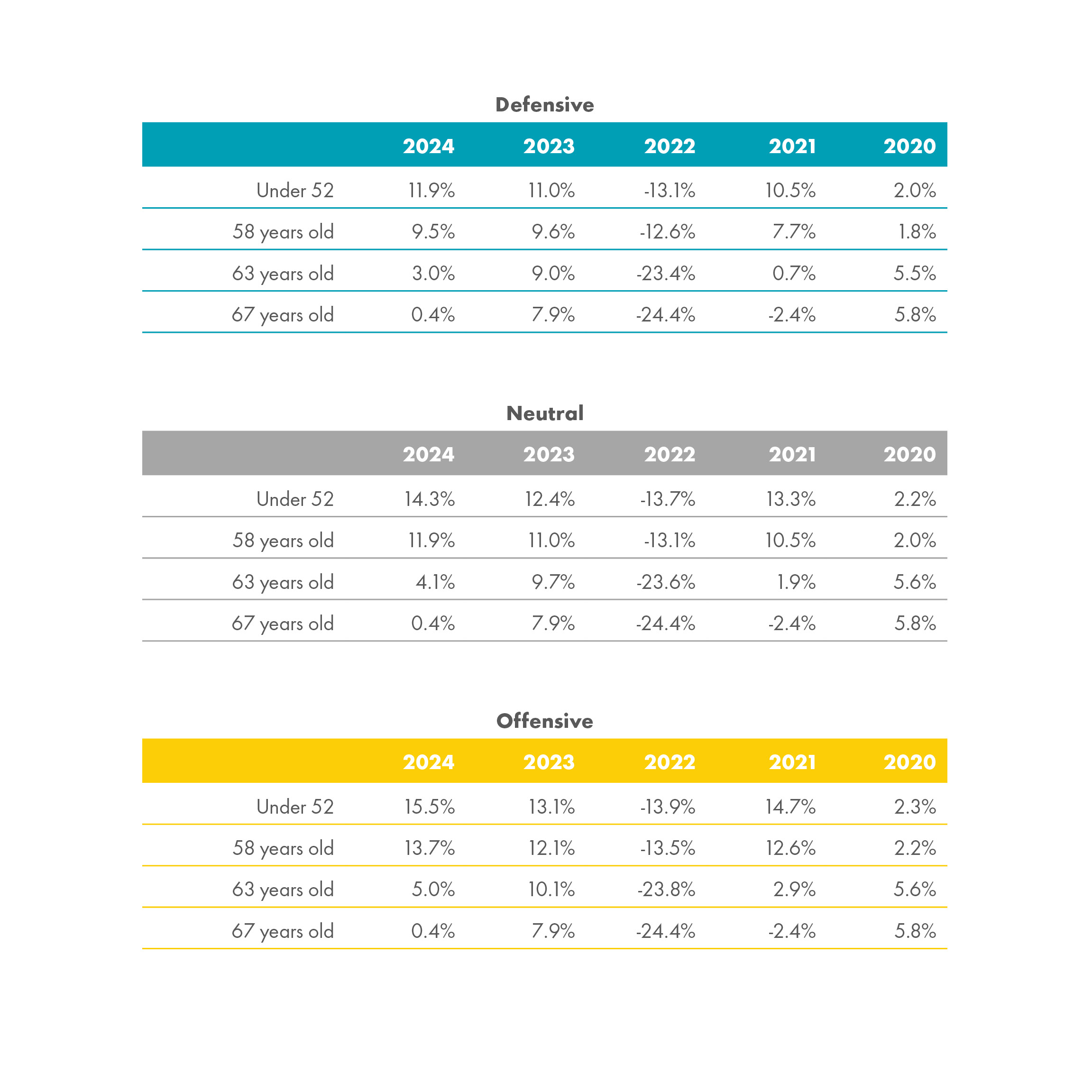 Above you see the returns per investment profile over the past few years. The returns give an estimate and can vary slightly for each participant.
Insight into your pension capital and expected retirement income
On my-Shell pension, you can see how your pension capital is performing every month. You can also find information on the options offered by your (Net) pension scheme. In addition, you will receive a Uniform Pension Overview (UPO) once a year. This shows the amount you have accrued for your net pension capital. You can also view the UPO on my-Shell pension, at My archive.
You will use your accrued capital to purchase a pension benefit
You must decide for yourself if you want to receive a fixed or variable pension benefit. If you opt for a variable pension, you will participate in the Collective Variable Pension (CVP). Your pension capital will remain invested after retirement. That is why your pension is variable. You purchase a fixed pension benefit if you opt for a fixed benefit. The final result of both fixed and variable benefits is only known when you retire. In the year you turn 58, you will make a provisional choice.