Responsible investment policy
Socially responsible investing is becoming an ever more important theme for Dutch pension funds. Shell Nederland Pensioenfonds Stichting (SNPS) is striving to achieve sustainable development and a strong social 'license to operate' by incorporating environmental, social and governance aspects into the investment process. Implementation of the ambitions above has been anchored in SNPS policy.
Responsible investment
SNPS defines 'responsible investment' as investments in which the interests of participants, inactive participants, retirees and society are represented in the long term. Besides important investment return and risk-related considerations, environmental, social and governance (ESG) aspects are taken into account.
SNPS responsible investment policy covers the following elements of the policy cycle: the SNPS vision on responsible investment, its objectives, anchoring in the Board, national and international ESG codes and guidelines, strategic tools, progress monitoring, transparency and reports on policy results and evaluation.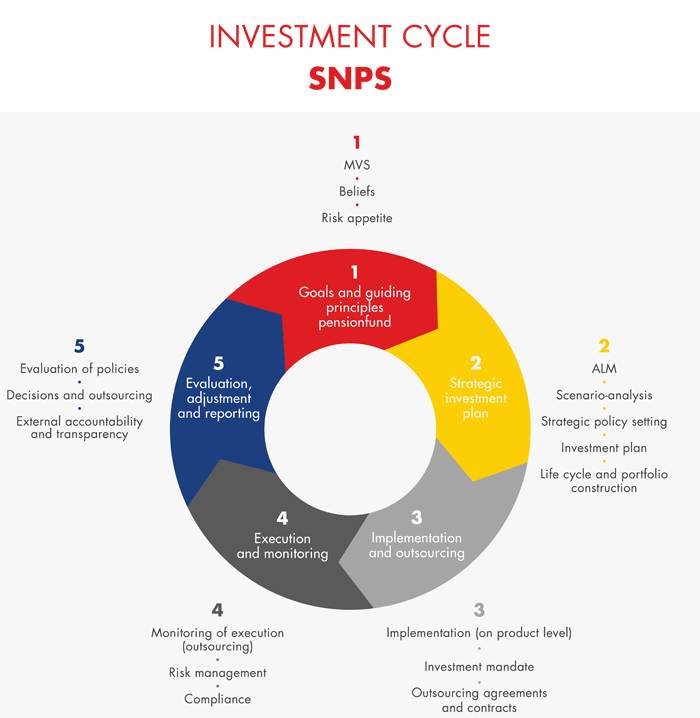 Vision
The vision of the SNPS pension fund is to administer pension schemes in the interests of its participants and in an innovative, transparent and competitive manner. The vision also expresses SNPS' wish to put participants in a position to make informed decisions about their future income.
SNPS strives to enable participants to create long-term value via its investments, its vision being that responsible investment contributes to long-term value creation.
SNPS has laid down a number of investment beliefs in its Statement of Investment Principles. One of these is that responsible ownership promotes good governance and corporate responsibility. SNPS invests its assets in investment funds that are managed by external asset managers. As SNPS is not the legal owner of the investments that are held in these funds, it implements this particular investment belief by pursuing a derived 'responsible ownership' policy. This means that SNPS will check the following at the very least when choosing an external asset manager: the presence of an appropriate voting and engagement policy, which is actually implemented and reported on.
Objectives
The objectives for the responsible investment policy of SNPS are that:
the policy and its implementation follow current treaties, conventions, legislation, guidelines, codes and covenants on the subject of responsible investing.
the choices and results ensuing from this policy are transparent for and explainable to all SNPS stakeholders.
it strives to achieve the best possible investment results for individual participants, based on risk appetite and taking into account the thematic preferences of participants.
it commits itself to sustainable improvements in relation to the environment, society and good governance.
Anchoring in the Board
The Board is responsible for the ESG policy. SNPS has appointed two non-executive Board members as focal points for matters pertaining to responsible investment ('ESG focal points'). These Board members discuss all current matters in this respect with executive Board members and decide which items will be added to the Board agenda.
National and international codes and guidelines
SNPS bases the development of its responsible investment policy on legislation and the following codes and guidelines:
1. The United Nations
a. Global Compact (UNGC): the UNGC has formulated 10 criteria in relation to human rights, labour, environment and anti-corruption.
b. Guiding Principles on Business and Human Rights (UNGP): the UNGP provides companies with a 'protect-respect-remedy framework' in respect of human rights.
c. Sustainable Development Goals (SDGs): SNPS acknowledges the importance of the SDGs of the United Nations.
2. OECD
a. OECD Guidelines for Multinational Enterprises: these guidelines help companies deal with issues like supply chain responsibility, human rights, child labour, the environment and corruption.
b. The following OECD guidelines apply specifically for institutional investors: Responsible business conduct for institutional investors. They set out the various elements of the due diligence process.
SNPS asks its external fiduciary managers, ESG service providers and/or asset managers and the companies in which it invests to act in accordance with the guidelines above or to endeavour to do so.
3. Covenant on International Socially Responsible Investment for Pension Funds (IMVB):
in 2018, SNPS signed the Covenant on International Socially Responsible Investment for Pension Funds, the object of which is to promote sustainable investment via collaboration between pension funds, social organisations, unions and the government.
Strategic tools
Taking long-term value creation as a guiding principle has been integrated into various parts of the overall policy and investment cycle and in selection criteria for external managers.
In its responsible investment policy, SNPS prioritises thematic focus areas, which are based in part on its own risk assessment and the preferences of participants.
SNPS asks external fiduciary managers, asset managers and ESG service providers to act in accordance with SNPS policy and objectives and strives to collaborate with them in the long term, in order to promote long-term value creation via responsible investment.
The strategic tools used to implement responsible investment policy are explained below.
1. Selecting external managers
When selecting an external fund manager, one of SNPS' considerations will be whether the fund manager applies sustainability criteria and long-term value creation as guiding principles when establishing the investment policy of the investment fund SNPS considers for investment. SNPS is assisted in this respect by a fiduciary asset manager.
2. ESG integration
ESG integration involves the inclusion of ESG factors in the investment process. Screening to establish the financial attractiveness and potential negative impacts of an investment takes place at the start of the investment process and on a regular basis afterwards. This is the first step in what is referred to as 'due diligence', which is carried out by external fund managers and specialist service providers.
Wherever possible, SNPS uses an external service provider to screen and monitor the progress achieved by companies, particularly in relation to ESG-subjects that are financially material, have a serious negative impact on society and the environment or SDG themes that are established on the basis of participant preference in part. Subjects with the most serious negative impact are prioritised by character and probability.
3. Engagement and voting policy
SNPS defines 'engagement' as using its influence to achieve sustainable improvements in relation to environmental and social policy and governance. SNPS seeks dialogue with company management via an external service provider and external fund managers, both proactively and reactively. On the one hand, via proactive engagement, encouraging companies to make improvements to specific themes ('do good'). On the other hand, via reactive engagement ('do no harm'). When companies in the investment portfolio are responsible for a (potential and material) negative impact, the influence of external fund managers or SNPS (via an external service provider) will be used, via engagement or by exercising voting rights, to prevent and/or mitigate the negative impact in question and facilitate remediation and/or recourse.
4. Exclusion policy
SNPS believes in engagement as tool to achieve sustainable change. Fund managers that fail to make any progress in the field of sustainable business practice may be replaced as a last resort. The Board at SNPS will decide on any action of this nature on a case-by-case basis. When selecting external fund managers, the fiduciary manager is asked to consider that they might phase out or sell the shares they have in companies that are failing to make any progress in the field of ESG as a last resort and also take account of the (potential) negative consequences of their decision on society and the environment. If a company is excluded, SNPS will not invest in loans issued by the company in question either - in principle. External fund managers monitor all such companies on a regular basis, to see whether exclusions can be lifted.
SNPS does not wish to invest in companies that are involved in the production, distribution or sale of cluster munitions, anti-personnel mines or biological, chemical or nuclear weapons, or crucial components of any of the above. UN conventions identify these weapons as controversial.
SNPS takes these investment restrictions into account when selecting an external asset manager. SNPS then has investments screened each year (on a 'look through' basis) to ensure that they are not made in companies of this nature.
Monitoring
If possible, SNPS regularly monitors the progress and impact of its responsible investment policy. When necessary, SNPS makes adjustments.
Transparency & reports
Once every quarter, SNPS reports on its implementation of responsible investment policy on its website. It applies this policy to all its investments, wherever they are in the world. As part of this policy, SNPS does not issue any (public) communications about individual companies in which the investment funds invest. SNPS reports on its responsible investment activities in its annual report.
Evaluation
The Board evaluates policy on responsible investment on an annual basis (in principle), at which time it is adjusted if necessary. SNPS responsible investment policy is set out in the Actuarial and Technical Business Report (ATCM) and published on this website.